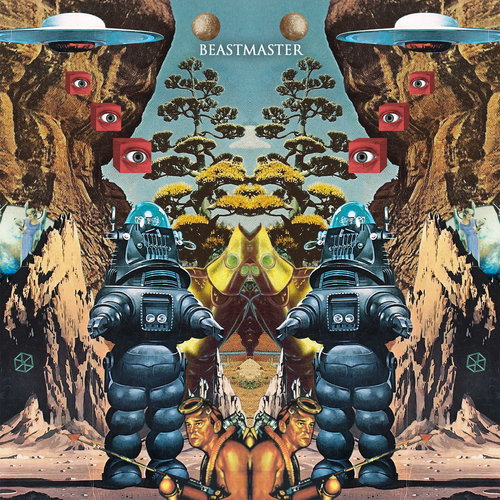 Beastmaster
Available Formats
Tracks
Price
Buy
CD Mini Album
7 tracks

£

4.99

Download Mini Album (

WAV

)
7 tracks

£

3.99

Download Mini Album (

MP3

)
7 tracks

£

3.99

Download individual tracks
From £0.99
Description
Beastmaster - Beastmaster
A very special mini-album from one of our old favourites, originally released on the internet as 2 separate E.P's back in 2009 and 2010, this self-titled album presents a charged array of spaced-out alt-rock from one man band, Beastmaster. After working with Brighton's 'Wrong Music' under a different pseudonym way back in 2006, Beastmaster moved to Australia for a change of pace. Recording half of the album whilst playing with alt-rock band 'Piano Donkey' in Perth, he later borrowed instruments and recording equipment to create this little beauty in his back room. The rest of the album was recorded when he returned to the UK and has now been revived in CD form alongside a very limited A1 poster.

This entirely instrumental album takes us on a sunny, kaleidoscopic jaunt via a refined strain of space rock, psychedelia and grungey pop – laced with hints of shoegazey melancholia. Preferring to work without vocals, Beastmaster rather uses this space to create a greater sense of complexity in the development of the tracks themselves, carving naturally flowing narratives in each song. Serving up a timeless balance between hazy post-rock and retro-futuristic pop, as well as interweaving a multitude of references to past greats, Beastmaster has achieved a wonderfully detailed fresh sound devoid of easy categorisation.

The opening track 'Demented Grandson...' delivers a spangled journey that flits between glittering organ-led sequences and mutated sabbath riffs, before solidifying into the shimmering, delay-driven wanderings of 'Goathead'. The album continues to move through this scorching landscape, the tracks acting as hallucinatory mirages twisting and turning organically towards the peak of the experience - 'The Iron Pig'. Commencing with an eery krautrock feel this monolith of a track quickly transforms into a fantastical space-western of epic proportions, with waves of guitar licks lifting the track into higher planes as Beastmaster rallies all aspects of his arsenal.
Tracklisting
CD Mini Album (LOVCD02CD)
Beastmaster

- Demented Grandson Goes to the Circus

Beastmaster

- Goathead

Beastmaster

- Rottnest Wandering

Beastmaster

- Taranaki Street

Beastmaster

- Mum, Dad, Kevin and Dimitri

Beastmaster

- The Iron Pig

Beastmaster

- Country Bumpkin
Download Mini Album (LOVCD02)